Well, sometimes life just doesn't go exactly like we planned and you get thrown a curve ball. :-(
I spent the better share of November getting ready for my class on Dec 5th (making tons of samples to share, little gifts to give the attendees and extra fun stuff to show). I was really excited! It was going to be a small class, but I didn't care, I wanted to spoil everyone and make it extra special!
I had a display board all ready!! I even had a couple of demos planned besides the cards we were doing. Lots and lots of hours went into the preparation.
Lots of fun crafts on display.
The house all decorated!!
Then, the night before class, the class had to be cancelled.
Well, like I said, sometimes life throws you a curve ball and even though I was hugely disappointed and sad about all the hours of work I had put in, 'gone to 'waste' as my hubby put it, I finally decided to just chalk it up to, 'It is what it is' and had to just move on.
My hubby felt so bad for me that he offered to take my Granddaughter and I into Redmond so we could get out of the house for the day. I remembered that Redmond was having a Charm Stroll, so we decided to participate in that.
You had to donate some sample items to get your passport (that was stamped at each store) and I had been saving little soaps, shampoos, hand lotions from motels we had stayed at over the past couple of years so I had two 2-gallon bags I was able to donate! They were so thrilled to get them.
My Granddaughter and I had fun walking to each of the stores and getting a charm. Plus I got almost 10,000 steps in from all the walking.
We went to EVERY store and collected EVERY charm...and then we had one of the stores (who offered to put the charms on your bracelet) put them on a bracelet for us.
There were 24 stores that participated in the event. It was a fun, but chilly day.
We even went to the little bazaar at a downtown park and got some hot chocolate and bought tickets to see a play next weekend at one of the local High Schools.
PLUS, one of the last stops was the library and they happened to be having a half off sale on all their books in their bookstore, so I really scored on some books and some movies for our Granddaughter....for about $5. :-)
On arriving home, the table was still all set up and all the displays were still staring at me so my husband helped me put everything away.
Well, we didn't put things too far away, though, as I have a meeting on Saturday with some other demonstrators and I was asked to bring my display board and items that I made to show them.
What they don't know is, now they'll all be getting some little gifts to take home :-)
None of them read my blog, so the surprise won't be spoiled.
Now, I need to get busy on some other projects that have been waiting for me!!
And, I have an entire month of fun stuff planned to do with my Granddaughter.
Years ago I made her a little advent box and decorated it and every year, I put little slips of paper into each drawer and every morning, she reads what's on the paper and we do what is planned for that day.
This is basically what it looks like, although I decorated mine differently.
Here is what they look like un-decorated.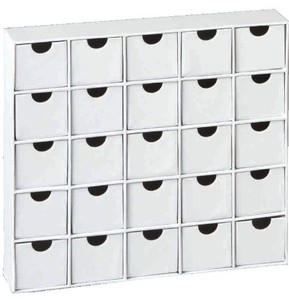 And, I just found them at WalMart, online. They are cheaper than what I paid for it years ago at $11 but you do pay shipping.
Also, I'll be sharing some things I have made, over the next week or so!
Tomorrow UPS is bringing my Occasions order! I can't WAIT to dive into that box!!!
Well, better get on with my day!!
Have a fantastic day!!!
Hugs,
Char